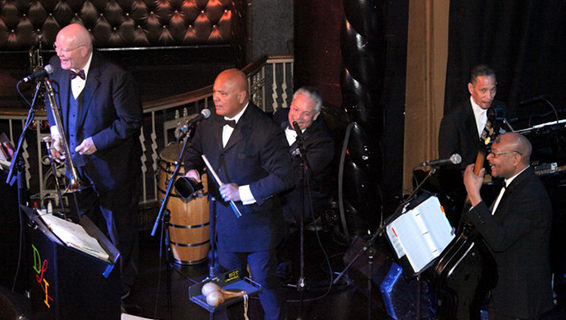 Photo credit: Laura McBride
D.L.I. members are veterans with several decades each of experience with a virtual who's who in the Latin music field, including Rafael Cortijo, Tito Puente, La India, the LeBron Brothers, Pete "Conde" Rodriguez, Hector Lavoe, Mongo Santamaria, Ray Barretto, Ruben Blades, and many more.
We favor a return to the traditional styles and roots of Afro-Cuban music, and this collection features many of the vintage classics of this genre.
Tap your feet, clap your hands to the clave, let your mind drift off to yesteryear in Havana, San Juan, or Santo Domingo..... and experience the Direct Latin Influence!
Musica con sabor para bailar y gozar.
D

avid Chamberlain

Raised in Buffalo, New York, David Chamberlain came to New York City in 1966, where he first became involved with Latin music as a teacher at the South Bronx Community Action Theater. Asked to mentor a group of students from the High School of Music & Art (now Laguardia H.S.), he taught them music fundamentals, and they taught him about their music - salsa. These students went on to record three albums as Orquesta Colon, and Dave began a love affair with Afro-Caribbean music that continues to this day. Over the years he has performed with Rafael Cortijo, Kako, Tito Puente and many more.

Dave has been active in Broadway shows, club dates, and as the conductor of the Hora Decima Brass Ensemble. He also leads the jazz group Band of Bones. He has been playing the trombone since he was ten and started flute when he was sixteen.

L

uisito Ayala

Luisito Ayala was an original member of DLI and sang lead vocals with us for 10 years. He passed away suddenly on December 11, 2012. Luisito will be missed as a great sonero and friend. May he rest in peace.

I

gor Atalita

An original member of DLI, Igor Atalita was born and raised in Curacao, Netherlands Antilles, where he played acoustic bass for 8 years with the Curacao Symphony Orchestra. He moved to Boston in 1987 to pursue his studies at the Berklee College of Music. In 1993 Igor graduated with studies in performance and jazz composition. Igor has worked as a freelancer in the New York area since 1995, and has performed with artists like Giovanni Hidalgo, Puntilla, Bobby Sanabria, Mauricio Smith, Tito Puente Orchestra, Andy Montanez, India, Tito Nieves, and Pete "El Conde" Rodriguez just to name a few. He was musical director of the Pathmark Hispanic Arts Festival. Igor has performed in the theatre productions "Four Guys Named Jose" and "Quien Mato a Hector LaVoe". Igor has toured Europe with Patato Valdez, the Ray Vega Jazz Group and the Bronx Horns. Igor's credits include performances at the Bern, Switzerland Jazz Festival and the Heineken Jazz Festival in Puerto Rico. Currently working with The Ray Vega Latin Jazz Group that recently performed at the Saratoga Jazz Festival in NY, he also recorded the last two Ray Vega CDs.

J

ulio Salgado

DLI is proud that Julio Salgado has joined us as lead vocalist in 2019. Julio was born in Bayamon, Puerto Rico, where he learned to play the guitar and sang with local groups and Choruses called Tunas. As a teenager he came to New York. After working and starting a family, Julio started singing with groups in New York including Charanga Sensual. He returned to Puerto Rico and and recorded with Bobby Valentin's brother, Osvalso Valentin. Dave first met him many years ago at a gig with Los Cachimbos de Hoy.
Recording history: Easy Living Combo w/Felt Barrio, George Delgado Mi Ritmo Llego, Charansalsa, The Latin Hearbeat Orquesta, Orchestra Narvaez, Eddie Palmieri 50 Anniversary (ceros)

J

orge Maldonado

Lead vocalist Jorge Maldonado is a seasoned veteran with over 45 years experience in the music business. He has performed with Louie Ramirez, Charanga America, Orquesta Broadway, Conjunto Libre, Johnny Pacheco, Sonora Matancera. Son Cafe, and the Mambo legends (to name a few!) He has recorded as lead vocalist on 22 albums (cds) and contributed background vocals on over 75 recordings. Jorge continues to sing with bands and appears frequently as a soloist throughout Latin America and the US. DLI is proud to have had Jorge perform with us for over ten years. We wish him well in his retirement.

R

ay Martinez

Composer, arranger, and band leader Ray Martinez is one of the most sought after bass players on the scene today. Born in the Domincan Republic, Ray has performed with most of the greats in the Latin field including Tito Puente, Celua Cruz. Mongo Santamaria, Ray Barretto, Johnny Pacheco, Hector Lavoe, Pete "Conde" Rodriguez, Paul Simon, and David Byrne. Ray has recorded four cds as leader of his own group, "Sabor Criollo", and his arrangements have been recorded by countless Latin artists. Ray is an original member of DLI and has performed with us for over 10 years.

E

ddie Montalvo

Bronx native Eddie Montalvo has recorded over 200 albums with a "who's who" of the Latin music business. He is known for his steady-as-a-rock rhythms, and Eddie's congas have been featured in the groups of Hector Lavoe, Willie Colon, Celia Cruz, Johnny Pacheco, Ruben Blades, Paul Simon, the Fania All-Stars, Big 3 Palladium Orchestra. Latin Giants of Jazz, Frankie Morales, and many more. Eddie was featured and played himself in the recent film "El Cantante" about the life of Hector Lavoe. The Latin Percussion (LP) company has an "Eddie Montalvo Signature Series" set of congas. Eddie is a Grammy nominee for his 2012 solo cd "From Puerto Rico to New York." We are proud that he has joined the ranks of DLI.

D

anny Gonzalez

Percussionist Danny Gonzalez was born in East Harlem. He credits his earliest exposure to Latin music to his uncle Monchile, a seaman who brought him records from Cuba by such artists as Arsenio, Fajardo, and Beny More. Danny practised congas by playing along with those records and by jamming in Central Park. He has also studied trumpet, sax, piano, and harmony. Since 1967 Danny has performed with Paul Ortiz, Joe Acosta, Bobby Rodriguez, Willie Rosario, Tito Nieves, and, for the last 35 years, with Orquesta Broadway. Danny has also backed up such singers as Cheo Feliciano, Pete "Conde" Rodriguez, and Vicentico Valdez. Danny has played congas, bongos, and timbales with DLI for the past seven years.